The General Plan (GP) is revised about every 10 years.  The current revision cuts back on the long-term commitment of 40% open space.  Even 2-3% less could mean a loss of 500-750 acres of open space. Our major concern is that the promise of 40% open space (going back to 1986) has been completely ignored in the new GP.  In addition, the General Plan and the draft Environmental Impact Report fail to mention the required performance standard of 15% open space space for each of the 25 Local Facility Management Zones.  Green space should be a focus of the General Plan, not an afterthought following the additional of thousands of residences, 7 million square feet of new commercial space, and 2600 more hotel rooms.
Parks, too, have been ignored in the General Plan, in particular neighborhood parks which residents can actually walk to.  More information follows for each of the city quadrants.
Don't know your quadrant?  See the map below: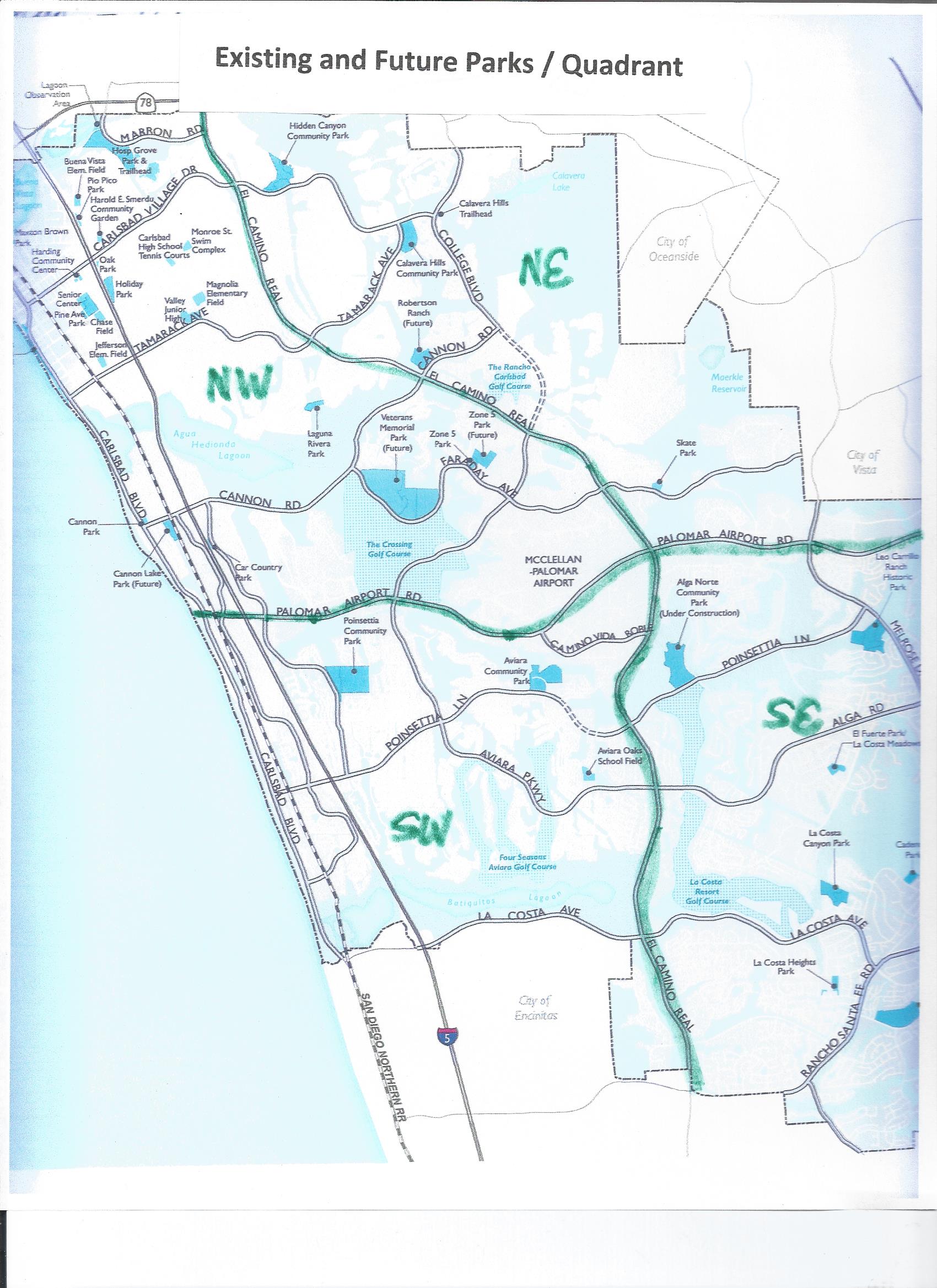 The map shows you existing and proposed parks, however, the numbers for park acreage don't seem to add up.   With a growing population and an increase in tourists who also use our parks the proposed increase seems inadequate.  In Carlsbad, park acreage calculations are based upon the 4 quadrants (divided east-west by El Camino Real and north-south by Palomar Airport Road).  To view the data for your quadrant, click on the links below:
To read the General Plan either visit the City of Carlsbad's website or go to our link if their website is down.
Recently Chula Vista and San Diego identified that Community Choice Energy (CCE) is the best way to meet their goals of reducing greenhouse gas emissions. In Carlsbad's General Plan's Sustainability Section, a commitment to look at CCE.  Local cities, Encinitas, Solana Beach, Del Mar, Oceanside, Carlsbad, Escondido, and Poway, have met to discuss the possibility of creating a regional CCE.  Local Sierra Club teams are working to convince their city councils to move forward on this endeavor.  To learn more about CCE, please visit the San Diego Sierra Club Facebook page.