Lake Calavera Projects:  See our Lake Calavera page for information about upcoming projects including palm tree removal.
Carlsbad's General Plan
Our focus for Carlsbad's GP was on ensuring 40% open space and enough park space so all residents could have reasonable access. After many months of meetings, comments and consideration, the city council adopted a GP with some minor revisions but did not include a 40% goal of open space or make significant changes in their philosophy about how parkland is counted. Click here to see the adopted GP.  At the same time the city council adopted their Climate Action Plan which didn't include a goals of 100% clean energy but did include a provision to look into the possibility of a Community Choice Energy alternative to SDG&E as the city's energy supplier.  This is a great step toward 100% clean energy so the Sierra Club that spearheaded this effort should be congratulated.
Below is a description of some of our past and ongoing concerns:
One of our biggest issues is that historically many areas of the city (their are 25) have been excluded from the requirement of having a minimum of 15% open space.  This "grandfathering" means you may live in an area that is short of natural open space.  Look at the 
map below to see which parts of the city are affected.
Recent developments in Carlsbad's adoption of its new General Plan:
GP revision occurs about every 10 years.  The current revision cuts back on the long-term commitment of 40% open space.  Even 2-3% less could mean a loss of 500-750 acres of open space.  On July 15, 2014, the city of Carlsbad held a workshop to review public comments.  Staff presented council with feedback to these comments.  Click here for our rebuttal to many of their comments.  Council did not give any directions to staff asking for changes after public comments at the workshop and questions to the staff.  Below are our comments to the general plan and Climate Action Plan (CAP):
Our major concern is that the promise of 40% open space (going back to 1986) has been completely ignored in the new General Plan.  In addition, the General Plan and the draft Environmental Impact Report fail to mention the required performance standard of 15% open space space for each of the 25 Local Facility Management Zones.  Green space should be a focus of the General Plan, not an afterthought following the additional of thousands of residences, 7 million square feet of new commercial space, and 2600 more hotel rooms.
Parks, too, have been ignored in the General Plan, in particular neighborhood parks which residents can actually walk to.  More information follows for each of the city quadrants.
To read the General Plan either visit the City of Carlsbad's website or go to our link if their website is down.
Don't know your quadrant?  See the map below: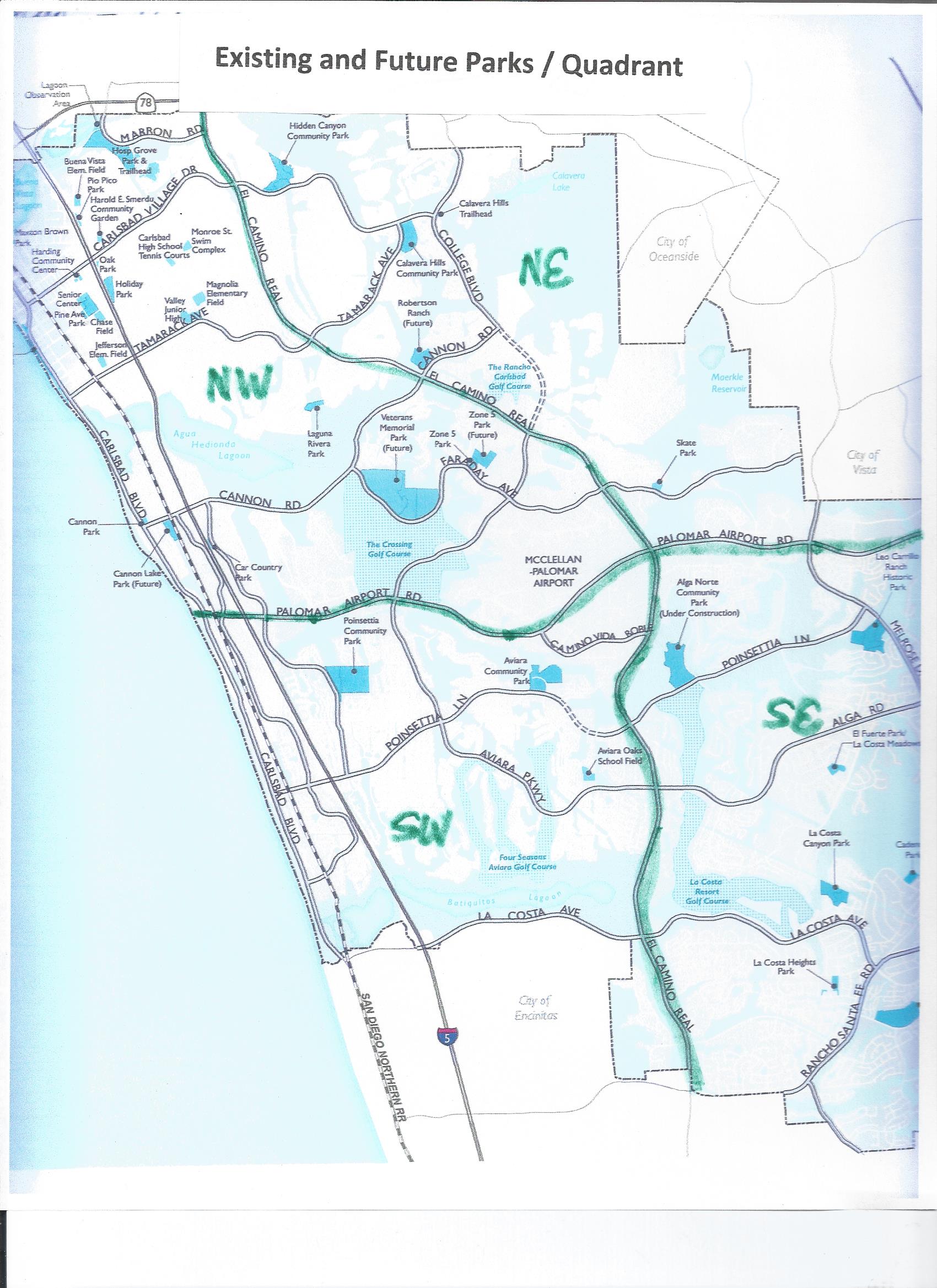 The map shows you existing and proposed parks, however, the numbers for park acreage don't seem to add up.   With a growing population and an increase in tourists who also use our parks the proposed increase seems inadequate.  In Carlsbad, park acreage calculations are based upon the 4 quadrants (divided east-west by El Camino Real and north-south by Palomar Airport Road).  To view the data for your quadrant, click on the links below:
On October 21, 2014 Janell Cannon, author of Stelluna and other children's books, spoke on behalf of open space in Olde Carlsbad at the City Council meeting.  To view her presentation (and her graphic renderings of what could be) click here.
SOS for Open Space – Saving the Natural Lands of Carlsbad
Preserve Calavera is leading a coalition of community organizations on a grass roots campaign to save some of the priceless natural lands of Carlsbad.  These natural lands are a key part of what makes this such a special place to live.  But many of the areas are under immediate threat of development.  We need to preserve the best of what we have left-  places like the Buena Vista Creek Valley with the sacred El Salto waterfall.  Places like Kato/Mandana  that provide the critical link in the regional wildlife movement corridor.  Places where our children can connect with nature and everyone can enjoy a quiet walk or hear the sound of a creek or the call of a bird.  Open space gives us a high quality of life and preserves our property values.  It is good for residents, businesses and visitors alike.
In 2002 the residents of Carlsbad passed Measure C with the supporting materials stating 40% open space will be preserved.  This proposition authorized some of the millions of reserve funds to be allocated for the acquisition of open space and trails.  In 2007 a City Council appointed citizen's committee evaluated and prioritized the remaining lands.  Ten years seems like long enough to do what the voters asked them to do- allocate these funds to a restricted account and preserve some of these lands before it is too late.  Finally, in June, 2012, the Carlsbad City Council agreed to set aside $5 million for open space.  We continue to educate the public and lobby the city council to use  this money for natural open space acquisition  while it is still available.  We continue to wait for the city to move ahead on acquiring additional natural open space.
Share our video above with friends and family.