See our new wetlands signage along boardwalk at Calavera Preserve.
Quarry Creek:
At the beginning of December, 2013, Preserve Calavera settled a lawsuit over Quarry Creek with McMillin and the City of Carlsbad.  The press release approved by all three groups can be viewed on the city's website.  You can also check out a recent newsletter (DECEMBER 2013 NEWSLETTER) for additional information. Below is an image that shows some of the changes with this agreement:  development moved back 100′, contour graded slope, height reduced to 2 stories, earth tone colors and native plant vegetation.  The image shows how impacts have been reduced when looking at the development from the porch of the historic Marron Adobe.  
: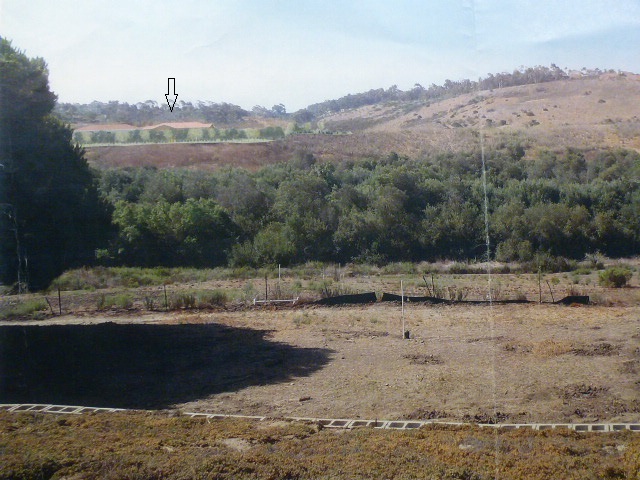 SOS for Open Space – Saving the Natural Lands of Carlsbad
Preserve Calavera is leading a coalition of community organizations on a grass roots campaign to save some of the priceless natural lands of Carlsbad.  These natural lands are a key part of what makes this such a special place to live.  But many of the areas are under immediate threat of development.  We need to preserve the best of what we have left-  places like the Buena Vista Creek Valley with the sacred El Salto waterfall.  Places like Village H that serves as a natural meeting area for the community. Places like Kato/Mandana  that provide the critical link in the regional wildlife movement corridor.  Places where our children can connect with nature and everyone can enjoy a quiet walk or hear the sound of a creek or the call of a bird.  Open space gives us a high quality of life and preserves our property values.  It is good for residents, businesses and visitors alike.
In 2002 the residents of Carlsbad passed Measure C- authorizing some of the millions of reserve funds to be allocated for the acquisition of open space and trails.  In 2007 a City Council appointed citizen's committee evaluated and prioritized the remaining lands.  Ten years seems like long enough to do what the voters asked them to do- allocate these funds to a restricted account and preserve some of these lands before it is too late.  Finally, in June, 2012, the Carlsbad City Council agreed to set aside $5 million for open space.  We continue to educate the public and lobby the city council to use  this money for natural open space acquisition  while it is still available.  Share our the new video above with friends and family.