At the beginning of December, 2013, Preserve Calavera settled a lawsuit over Quarry Creek with McMillin and the City of Carlsbad.  You can check out our DECEMBER 2013 NEWSLETTER for additional information.  Below is an image of what the development will look like as seen from the Marron Adobe; arrow indicates rooftops of new units: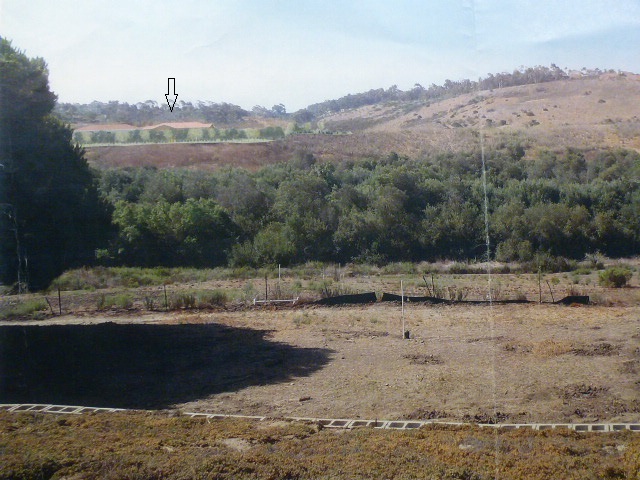 The following is the status of our action on Quarry Creek as of May, 2013:
On April 2, 2013 the Carlsbad City Council voted unanimously to approve a 656 unit development at Quarry Creek.  The only concession made was to preserve a portion of the panhandle known as R5.  They ignored the Planning Commission's recommendation to limit the number of units to 606.
We worked for years toward a compromise that would protect the priceless natural, cultural and historic resources of this valley.  The Council received thousands of signatures on petitions asking them to preserve this valley, hundreds of postcards and emails, and heartfelt testimony at numerous public hearings.  But instead of listening to these voices, the Carlsbad City Council approved all 656 units the developer asked for- including hundreds on the panhandle.  Litigation is always a last resort.   Unfortunately, that was the only option left for us to protect this priceless valley and we have done the following:
First, we charged the city violated the Brown Act (open meetings law) by holding a closed session meeting and discussing Quarry creek without the legally-required public noticing and reporting. Look at the video tape of the city council's March 26th meeting (5hours and 9 minutes into the meeting) and see exactly what the Mayor said that caused our concern.   The city has 30 days to respond.
Second, we filed suit (5/12/13) challenging approval of the final Environmental Impact Report (EIR) citing eight  causes for action with numerous specific instances under each for procedural errors; included were failure to adequately consider environmental impacts and to provide adequate mitigation or to provide adequate findings to support their conclusions.  The City Council placed a low value on the natural, historical and cultural resources of this valley- but to the people of north county they are priceless.
To see recent articles on the progress of the Quarry Creek development check our Media page.  Other resources on Quarry Creek are listed below: