Caruso 85/15 Plan for a Shopping Center at Agua Hedionda Lagoon
Carlsbad residents will go to the polls on February 23 to vote on this issue.  See the Citizens for North County website for more information.
On Sept. 24, 2015 Citizens for North County submitted to the city of Carlsbad clerk over 9000 signatures for a referendum that would pu
t the Caruso initiative back on the ballot. On October 27, 2015 the Registrar of Voters verified the signatures. The Carlsbad City Council will next decide when to have the initiative go before the voters.
Rather than allowing plenty of time for the public to become aware of all the facts, on Nov. 17th the Carlsbad City Council chose to hold a special election in February, 2016, at a cost to the city of more than $500,000.
The following gives a little background into the issue:
Caruso Affliiated with their 85/15 Plan would like everyone to think their project is about saving open space, and not a huge shopping center on a lagoon. But the land they claim to save is already saved. And the shopping center is the densest in this area and is projected to draw traffic  from LA to Mexico. Good projects don't need to go to the ballot box, buy TV ads, and mail out thousands of slick fliers. Good projects go through a standard review and give and take process to address community concerns. Thousands of Carlsbad residents were shown pretty pictures, but there are no assurances that is what gets built. The devil is in the details and this initiative has a lot of details in its 397 pages. Details that assure the developer has full control for the next 15 years – with no control by the people, city Commissions, or even the Mayor and City Council. Want an LA developer to decide what gets built in Carlsbad? If this initiative passes see how many of his friends line up to be next.
A very major concern of this project is the ability of it to circumvent normal CEQA (California Environmental Quality Act) review.  This law allows the public to evaluate the merits of the proposed project with regard to environmental impacts, a process all other projects in Carlsbad have had to undergo.  Read the commentary on the importance of CEQA review in the Voice of San Diego (11/2/15).
One concern from this project is air quality.  See the letter addressing air quality impacts from this project.  Water quality is also an issue as the project's property lines the south side of Agua Hedionda lagoon.  Read the review of Caruso's environmental analysis here.
The Surfrider Foundation submitted a letter to the city of Carlsbad outlining their opposition to the Caruso initiative to be approved by the city council without a vote of the people.
We had received a letter from Caltrans confirming what we have been saying about the traffic congestion caused by the Caruso project. Per Caltrans the I-5 ramps are not scheduled for completion until 2035.  That's a lot of years for us to be saddled with the traffic from the Caruso project. Plus Caltrans identified five other issues with the traffic study done by Caruso that still need to be addressed.  Read their letter here.
The San Diego Union Tribune just published an overview of the current (11/6/2015) situation with the initiative, referendum, and next steps:  SDUT 11-6-15 article
Carlsbad's General Plan
Our focus for Carlsbad's GP was on ensuring 40% open space and enough park space so all residents could have reasonable access. After many months of meetings, comments and consideration, the city council adopted a GP with some minor revisions but did not include a 40% goal of open space or make significant changes in their philosophy about how parkland is counted. Click here to see the adopted GP.  At the same time the city council adopted their Climate Action Plan which didn't include a goals of 100% clean energy but did include a provision to look into the possibility of a Community Choice Energy alternative to SDG&E as the city's energy supplier.  This is a great step toward 100% clean energy so the Sierra Club that spearheaded this effort should be congratulated.
Below is a description of some of our past and ongoing concerns:
One of our biggest issues is that historically many areas of the city (their are 25) have been excluded from the requirement of having a minimum of 15% open space.  This "grandfathering" means you may live in an area that is short of natural open space.  Look at the 
map below to see which parts of the city are affected.
Recent developments in Carlsbad's adoption of its new General Plan:
GP revision occurs about every 10 years.  The current revision cuts back on the long-term commitment of 40% open space.  Even 2-3% less could mean a loss of 500-750 acres of open space.  On July 15, 2014, the city of Carlsbad held a workshop to review public comments.  Staff presented council with feedback to these comments.  Click here for our rebuttal to many of their comments.  Council did not give any directions to staff asking for changes after public comments at the workshop and questions to the staff.  Below are our comments to the general plan and Climate Action Plan (CAP):
Our major concern is that the promise of 40% open space (going back to 1986) has been completely ignored in the new General Plan.  In addition, the General Plan and the draft Environmental Impact Report fail to mention the required performance standard of 15% open space space for each of the 25 Local Facility Management Zones.  Green space should be a focus of the General Plan, not an afterthought following the additional of thousands of residences, 7 million square feet of new commercial space, and 2600 more hotel rooms.
Parks, too, have been ignored in the General Plan, in particular neighborhood parks which residents can actually walk to.  More information follows for each of the city quadrants.
To read the General Plan either visit the City of Carlsbad's website or go to our link if their website is down.
Don't know your quadrant?  See the map below: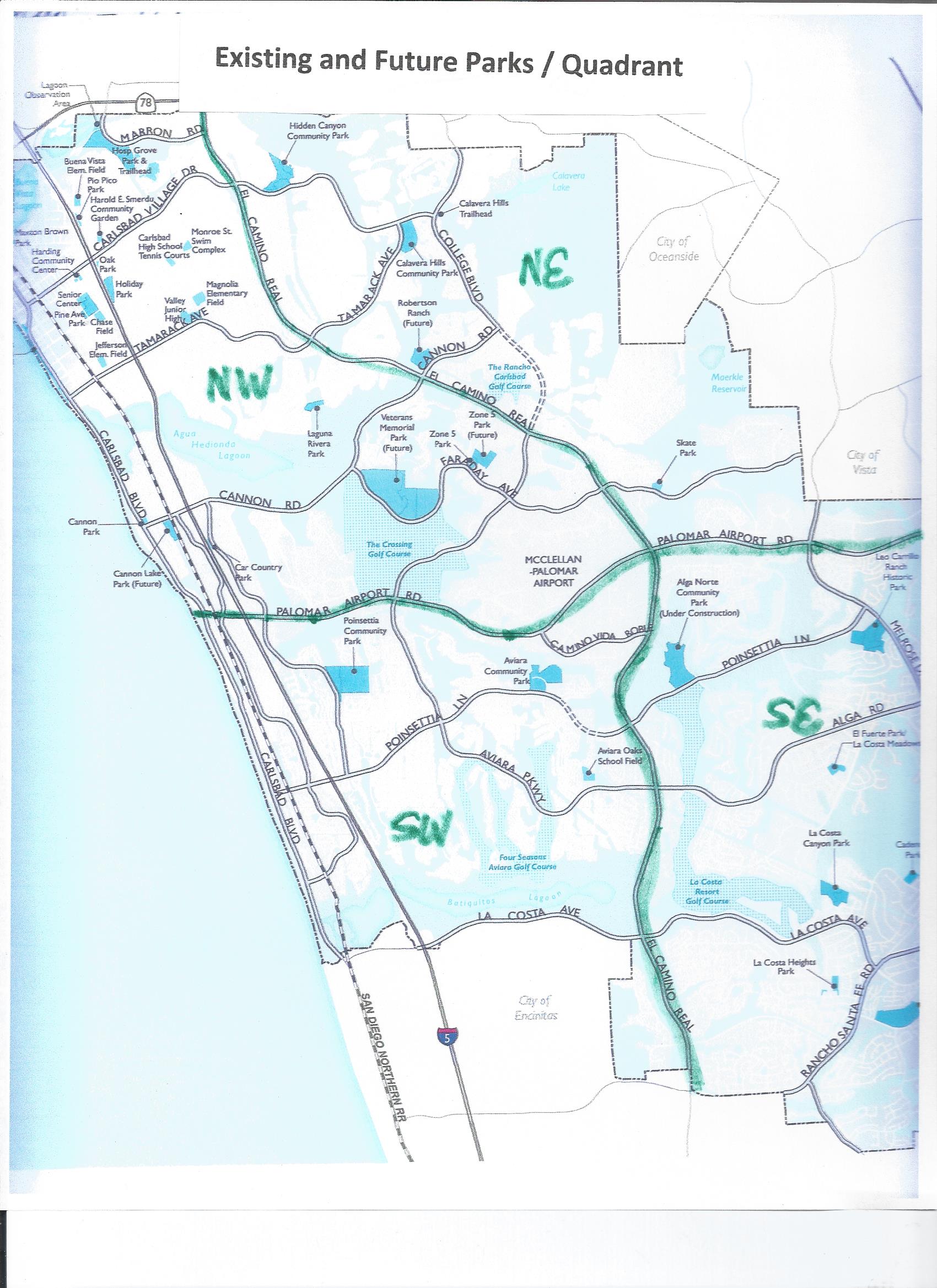 The map shows you existing and proposed parks, however, the numbers for park acreage don't seem to add up.   With a growing population and an increase in tourists who also use our parks the proposed increase seems inadequate.  In Carlsbad, park acreage calculations are based upon the 4 quadrants (divided east-west by El Camino Real and north-south by Palomar Airport Road).  To view the data for your quadrant, click on the links below:
On October 21, 2014 Janell Cannon, author of Stelluna and other children's books, spoke on behalf of open space in Olde Carlsbad at the City Council meeting.  To view her presentation (and her graphic renderings of what could be) click here.
Quarry Creek:
At the beginning of December, 2013, Preserve Calavera settled a lawsuit over Quarry Creek with McMillin and the City of Carlsbad.  The press release approved by all three groups can be viewed on the city's website.  You can also check out a recent newsletter (DECEMBER 2013 NEWSLETTER) for additional information. Below is an image that shows some of the changes with this agreement:  development moved back 100′, contour graded slope, height reduced to 2 stories, earth tone colors and native plant vegetation.  The image shows how impacts have been reduced when looking at the development from the porch of the historic Marron Adobe.  
: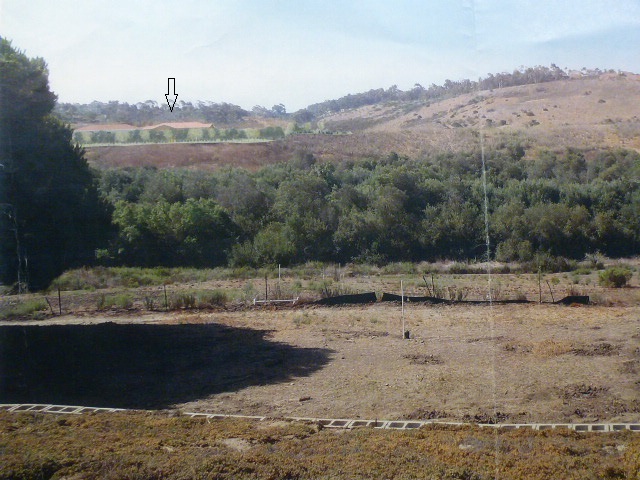 SOS for Open Space – Saving the Natural Lands of Carlsbad
Preserve Calavera is leading a coalition of community organizations on a grass roots campaign to save some of the priceless natural lands of Carlsbad.  These natural lands are a key part of what makes this such a special place to live.  But many of the areas are under immediate threat of development.  We need to preserve the best of what we have left-  places like the Buena Vista Creek Valley with the sacred El Salto waterfall.  Places like Kato/Mandana  that provide the critical link in the regional wildlife movement corridor.  Places where our children can connect with nature and everyone can enjoy a quiet walk or hear the sound of a creek or the call of a bird.  Open space gives us a high quality of life and preserves our property values.  It is good for residents, businesses and visitors alike.
In 2002 the residents of Carlsbad passed Measure C with the supporting materials stating 40% open space will be preserved.  This proposition authorized some of the millions of reserve funds to be allocated for the acquisition of open space and trails.  In 2007 a City Council appointed citizen's committee evaluated and prioritized the remaining lands.  Ten years seems like long enough to do what the voters asked them to do- allocate these funds to a restricted account and preserve some of these lands before it is too late.  Finally, in June, 2012, the Carlsbad City Council agreed to set aside $5 million for open space.  We continue to educate the public and lobby the city council to use  this money for natural open space acquisition  while it is still available.  We continue to wait for the city to move ahead on acquiring additional natural open space.
Share our video above with friends and family.